Two Years Later: Eddie Van Halen Remembered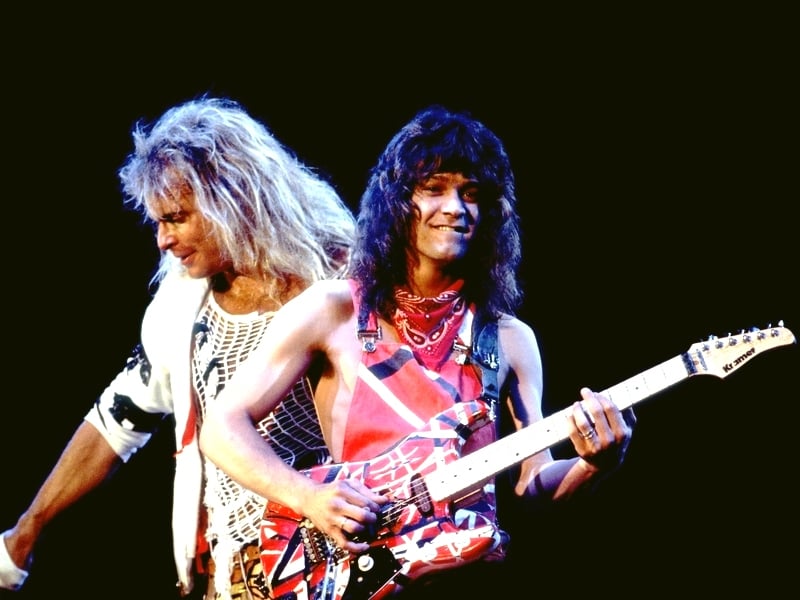 It was the end of an era for an entire generation of rock fans and musicians who came of age in the 1980's, as the news spread two years ago today — October 6th, 2020 — that Eddie Van Halen died at age 65 after years of battling throat cancer. He is survived by his son Wolfgang, second wife Janie, and brother and Van Halen bandmate, Alex Van Halen.
Wolfgang posted a message to fans on social media, which read: "I can't believe I'm having to write this, but my father, Edward Lodewijk Van Halen, lost his long and arduous battle with cancer this morning. He was the best father I could ever ask for. Every moment I've shared with him on and off stage was a gift. My heart is broken and I don't think I'll ever fully recover from this loss."
Wolfgang's mother, actress Valerie Bertinelli, Eddie's first wife of 26 years, simply tweeted 20 broken hearts.
Former bandmate Sammy Hagar posted: "Heartbroken and speechless. My love to the family."
David Lee Roth posted a backstage shot of him and Eddie during the past decade, writing, "What a Long Great Trip It's Been."
Michael Anthony posted photos of him and Eddie onstage during the early-'80s, writing: "No words…Heartbroken, my love to the family."
In November 2019, a report from TMZ claimed that Van Halen was resting at home after spending several days in the hospital due to complications from his treatment for cancer. According to sources close to the legendary musician, Eddie was admitted to the hospital with abdominal pain and intestinal issues. Both issues were reportedly a bad reaction to the drugs that Eddie has been taking to battle throat cancer.
Prior to that, it was reported that Eddie had been traveling between the U.S. and Germany for several years to get treatment for throat cancer. The guitarist had one-third of his tongue removed in 2000 due to the same ailment.
Eddie Van Halen revolutionized not only the electric guitar, but the sound of the 1980's with his signature two-finger guitar tapping and iconic use of speed on the instrument. Van Halen, who was born in Nijmegen, Netherlands, on January 26th, 1955, was bi-racial, with his mother being a Dutch national of Indonesian decent. The family, including older brother Alex, moved to the U.S. in 1962, eventually settling in Pasadena, California.
Eddie Van Halen's body of work with Van Halen includes some of the most fun and influential albums in rock history: Van Halen (1978); Van Halen II (1979); Women And Children First (1980); Fair Warning (1981); Diver Down (1982); 1984 (1984); 5150 (1986); OU812 (1988); For Unlawful Carnal Knowledge (1991); Live: Right Here, Right Now (1993); Balance (1995); Van Halen III (1998); A Different Kind Of Truth (2012); and Tokyo Dome – Live in Concert (2015).
Pete Townshend told Rolling Stone: "I was once asked by Michael Jackson to play electric guitar on the Thriller album. I said I couldn't do it but recommended Eddie who called and we chatted. He was utterly charming, happy about the connection, but told me how much he was enjoying playing keyboards. His smile was just classic. A man in his rightful place, so happy to be doing what he did. It's completely tragic that we have lost him. He was not just an innovative and stylish player with great taste, he was also a laidback virtuoso showman who just blew us all away every time. Every shredder today has lost their Master Teacher and Guide. As he got older he became more generous and amusing and self-effacing about his enormous gifts. He shared so many tricks through guitar workshops, online and on TV shows. Immense talent. The Great American Guitar Player. I was hoping he might be President one day."
A while back, Eddie Van Halen told us that the Van Halen's strength was that they were always true to themselves musically: "We have never been one to follow trends — y'know, whether it be punk, disco, rap, industrial — we're a rock n' roll band. We make music that pleases us, y'know? We make music from the heart."
Eddie Van Halen revealed that most of Van Halen's music stemmed from jam sessions with drummer and brother Alex: "What I do on any record is I basically lock myself up in the studio with my brother, and we jam, and whatever comes out is what we (laughs) use. And a lot of the stuff we, we don't use, 'cause it's not good (laughs). But the good stuff we keep, and we just carry on from there."
Eddie admitted that Van Halen-type music was all he and his brother knew how to play: "We have never conformed to any trend, and I think that most bands that last are bands that are true to themselves. Y'know, look at the (Rolling) Stones — they don't all of a sudden start doing rap. The great bands, they stick to what they like, and what moves them. And Van Halen is the type of band — I'm not putting ourselves in any category, saying we're great — but we are true to ourselves. We don't change, just because that's the flavor of the month."
Eddie said that he was never surprised that the band always found a new legion of fans every few years: "I guess, y'know, fans that grew up with us are still there, and there's a whole batch of new ones, too. So I guess you get across the board — you got old ones, and new ones. (laughs)"
Eddie admitted that he's never been one to just churn out songs: "I'm not like a jingle writer who can just crank out the hits, so to speak. I need to sit down and really almost get to a state of mind where things just come. That's what kinda makes it exciting — it's like, 'Wow, I wonder what lurks in the plumbing today?' (laughs)"
During the press conference announcing their 2007 reunion dates David Lee Roth promised that Van Halen was truly a new band: "This is not a reunion, this is a new band. This is a revision with hits that you're so familiar with; it's as familiar as the roof of your own mouth is to you. But the ambition has nothing to do with old history. Usually when a band comes back like us it's rockers with walkers and this is everything but. Meet us in the future, not the pasture."
Sammy Hagar remains humbled by Van Halen's incredible output during his tenure. Just prior to Van Halen's 2007 Rock Hall induction, Hagar spoke candidly about the band's accomplishments: "No matter what happens at this thing, the end result is Van Halen's legacy will always be great. Every time you hear one of them songs. . . y'know, something stupid could happen there, the whole world could laugh at us, and we could, y'know, make a joke out of this whole thing by accident — hopefully not, but if that happened, the next time you hear a Van Halen song, it's gonna have no bearing. You're gonna go, 'That's great music.'"
A while back, Gene Simmons spoke to Eddie Trunk and shed light on his early connection to Van Halen: "I found a band called Van Halen and flew them to New York and produced their first demo, which included their first record and a lot of other tunes that would up (on other albums) through the years. And I couldn't convince (Kiss manager) Bill Aucoin to sign them, or the record company (Casablanca), because Bill Aucoin thought that they looked like Black Oak Arkansas. And I told him he was on crack again, because nobody knew who that band was, and so what if they were there — this is the next big band in America. I really believed it, I couldn't convince anybody. So I said to them, 'Y'know, I got ya signed (to a production deal), go back to L.A. after the tour, let's see what happens. I gotta go out on tour with Kiss.' At the end of the tour, they got a deal with Warners and I tore up the contract (and said) 'consider this a gift.'"
Wolfgang Van Halen told us that fans shouldn't bank on seeing any Eddie Van Halen tribute projects emerging from the vast tape archive he left behind. Wolfgang, who is now in charge of his late-father's unreleased work housed at his 5150 California studio, explained that the process to get everything adequately cataloged is his first priority — not getting new product out ASAP: "That's not gonna happen for a long time — even without the intention of release, I want to — at the every least — archive it properly and digitize it so everything is safe for years to come. Because it's going to be an incredibly difficult process — and a very long process to properly. . . just get the material off the old tapes, that I wanna do it right."
Wolfgang said that treating his father's music with dignity and respect is really what he cares about when it comes to dealing with his unreleased and unfinished work: "When a very important musician passes, you usually see compilations of unreleased music that, y'know, maybe they should've stayed unreleased. And it just kinda seems like a cash grab to take hold of the moment — and I've always just disagreed with that. And so, if we're ever going to do anything like that with the vault, I wanna make sure we do it right, and do something that dad would be okay with."
2020: FRIENDS AND FANS REACT
Tony Iommi: "I'm just devastated to hear the news of the passing of my dear friend Eddie Van Halen. He fought a long and hard battle with his cancer right to the very end. Eddie was one of a very special kind of person, a really great friend. Rest In Peace my dear friend till we meet again."
Brian May: "Completely gutted to hear the sad news. This wonderful man was way too young to be taken. What a talent – what a legacy – probably the most original and dazzling rock guitarist in History. I think of him as a boy – an innocent prodigy – always full of joy, always modest – and those truly magical fingers opened a door to a new kind of playing. I treasure the moments we shared. His passing leaves a giant hole in my heart. RIP Ed Van Halen. Bri"
Neal Schon: "I am at loss for words today as we shared many great times together. My sincere condolences to family and friends. Much love brother… RIP Ed"
Gene Simmons: "My heart is broken. Eddie was not only a Guitar God, but a genuinely beautiful soul. Rest in peace, Eddie!"
Paul Stanley: "Oh NO! Speechless. A trailblazer and someone who always gave everything to his music. A good soul. I remember first seeing him playing at the Starwood in 1976 and he WAS Eddie Van Halen. So shocked and sad. My condolences to Wolfie and the family."
Bruce Kulick: "I am saddened to hear to news one of my true guitar heroes death, Eddie Van Halen. He expanded the landscape of lead guitar playing, and took it to another level like a turbo charged muscle car leaving everyone behind. I was very influenced by his emotional lead playing. EVH RIP"
Aerosmith: "Rest In Peace. You will be missed!"
Gary Cherone: "Whether you were blessed to have known him or not, He was a kind and gentle soul… His impact on ALL our lives was immeasurable! His music, eternal! My deepest sympathies to the Van Halen family… Love you Ed #LongLiveTheKing!"
Metallica: "We are enormously saddened to hear about the untimely passing of Eddie Van Halen. We considered him an inspiration, an idol, and after spending a summer together on the road in '88, a friend. Sending love to Alex, @wolfvanhalen & everyone in the greater VH family."
Flea: "Oh man. Damn. I love you Eddie Van Halen. A true rocker, a deep musician, a HUGE heart, an LA boy through and through. A bold innovator and the undisputed king of all wheedlers. I hope you jam with Jimi tonight and soar freely through the cosmos. A vibrant part of music has left this earth. Broken through to the other side. What a sweetheart, my brother. All love and condolences to your family."
Mike McCready: "Eddie was like Mozart for guitar. Changed everything and he played with Soul. RIP EVH."
Scorpions: "It's sad to hear about the passing of one of the best guitarists ever. The US Festival, the Monsters of Rock we've shared the stage many times w/ @VanHalen. What a great loss for the World of Music. Our Hearts & Prayers go out to the Van Halen Family."
Joe Bonamassa: "Words cannot describe how monumental the loss of Edward Van Halen is to the music community. He inspired generations of guitar players of all genres. His playing was unrivaled in its ingenuity and its ferocity. Rest In Peace to the greatest Rock Guitarist of all time."
Joe Walsh: "Eddie was a one of a kind guitarist and human being. He was a master at his craft, a peer I was in awe of and a friend I loved. I am deeply saddened by this news and Marjorie and I send his family our deepest condolences. The world will be dimmer – and quieter – without him."
Ozzy Osbourne: "Eddie Van Halen was one of the nicest guys I ever worked with and we shared so many laughs together. His influence on music and especially the guitar has been immeasurable. He was an absolute legend. Eddie, I'll see you on the other side, my friend. Love, Ozzy."
Geezer Butler: "Just when I thought 2020 couldn't get any worse, I hear Eddie Van Halen has passed. So shocking. One of the nicest, down to Earth men I have ever met and toured with. A true gent and true genius. RIP. So sad. Thoughts go out to his brother Alex, and his family."
Jim Belushi: "Rest In Peace Eddie Van Halen – gone far too soon, our world lost so much talent today."
Scot Ian: "Oh man, I just heard about Eddie. F***ing hell. I hope Wolfgang and Alex and the rest of his family are doing OK. The greatest of all time has left the building. RIP EVH."
David Coverdale: "Edward. . . Thank You For Your Extraordinary Gifts You Chose To Share With Us…XXX"
Billy Idol: Rest in peace guitar legend Eddie Van Halen. We will miss you. #f***cancer"
Steve Vai: "Feeling deep sadness and overwhelming appreciation. The appreciation and love for him is bigger though. Let's take a minute and try to imagine our world if he never showed up. It's unthinkable. Thank you King Edward. You are deeply loved and will be missed."
Tom Morrello: "The first thing I heard was the debut record. On Chicago radio, they would play 'Runnin' With The Devil,' 'Eruption' into 'You Really Got Me,' and, you know, there's no way to describe it — it was otherworldly. There was no YouTube reference to understand: what could even possibly be f***ing happening. . . With Eddie Van Halen, everyone was riveted. Because everyone knew we were in the presence of our generation's Mozart."
Joe Satriani: "His rhythm was impeccable and intoxicating, and his note choice was hysterically funny and brave. He wrote great songs and didn't bore you to death with hours and hours of tedious stuff. It was always rock & roll. He had a swagger and an impeccable rhythm that drove every one of his songs."
Tommy Lee: ""RIP to my friend and man who changed guitar playing forever…F–K!!! no words."
Nikki Sixx: "Crushed. So f–king crushed. RIP Eddie Van Halen. You changed our world. You were the Mozart of rock guitar. Travel safe Rockstar"
Sebastian Bach: "Incredibly sorry for your loss man. Could never thank your dad enough for the joy he gave us all my sincerest condolences to you and your family."
Brian Wilson: "I just heard about Eddie Van Halen and I feel terrible about it. Eddie was such a great guitarist and I remember how big Van Halen was, especially here in L.A. Love and Mercy to Eddie's family & friends."
John Mayer: "Eddie Van Halen was a guitar superhero. A true virtuoso. A stunningly good musician and composer. Looking up to him as a young kid was one of the driving forces in my needing to pick up a guitar. I was so blown away watching him exert such control and expression over his instrument. Learning to play the guitar taught me so many things, but still absolutely nothing about how to play like Eddie Van Halen. And for that reason, I never stopped watching him in adolescent awe and wonder, and I promise you I never will. So very sad to learn of his passing. My love to his family, his bandmates, his friends and his crew. EVH FOREVER"
Lenny Kravitz: "Legendary guitar and musical innovator Edward Van Halen. 1955-2020. Heaven will be electric tonight."
Bret Michaels: "This goes beyond the passing of a great guitarist, but rather is a tremendous loss of a great man who truly helped to change my life and path with his guitar and sound. He helped forge the way for myself and many and will be deeply missed. Rest in peace, Eddie."
Yngwie Malmsteen: "Just heard the devastating news… One of the absolute giants is gone. He influenced and inspired an entire generation, including myself. His legacy will always remain.
RIP Edward
Yusuf / Cat Stevens: "Sad to hear Eddie Van Halen has passed away. A guitar innovator with a fierce spirit of musical and technical exploration. Prayers and thoughts with his family and friends."
Nickelback: "The world lost an icon, innovator, showman, virtuoso, master songwriter and perhaps one of the biggest inspirations ever to learn how to play guitar," the group wrote via Twitter. "Heartbroken to hear of Eddie Van Halen's passing. Our love, condolences and best wishes to his family, friends and fans."
Lea Thompson: "Wolfie he was the best. I am so so sorry. I know how much he cherished you. You were a great son. Sending love from the Deutch family."
FAST FORWARD
Wolfgang Van Halen's debut album, Mammoth WVH was released on June 11th, 2021 and debuted big across the Billboard charts. The set entered the Billboard 200 albums chart at Number 12.
Mammoth WVH also topped the charts on Billboard's Top Rock Albums, Hard Rock Albums, and Independent Albums lists.
"Distance," the debut single from Mammoth WVH, hit Number One on Billboard's Mainstream Rock chart and Number Nine on the magazine's Hot Rock & Alternative Songs list. The album's "Don't Back Down" topped out at Number 10 on Billboard's Mainstream Rock chart.
Wolfgang Van Halen has just begun work on the second Mammoth WVH album.
David Lee Roth, who had opened for Kiss prior to the pandemic, has announced his retirement following his January 2021 Las Vegas shows at the House of Blues. He continues to release re-recordings of Van Halen classics online.
Sammy Hagar revealed he and Eddie Van Halen had repaired their friendship in the months before Eddie's death, frequently texting and joking with each other. Hagar, who still tours and records with Van Halen's Michael Anthony as part of the Circle, has been a vocal proponent of a massive Eddie Van Halen tribute concert featuring every member that's ever been part of Van Halen performing together.