Surviving Beatles Reunite For All Star Dolly Parton Rock Album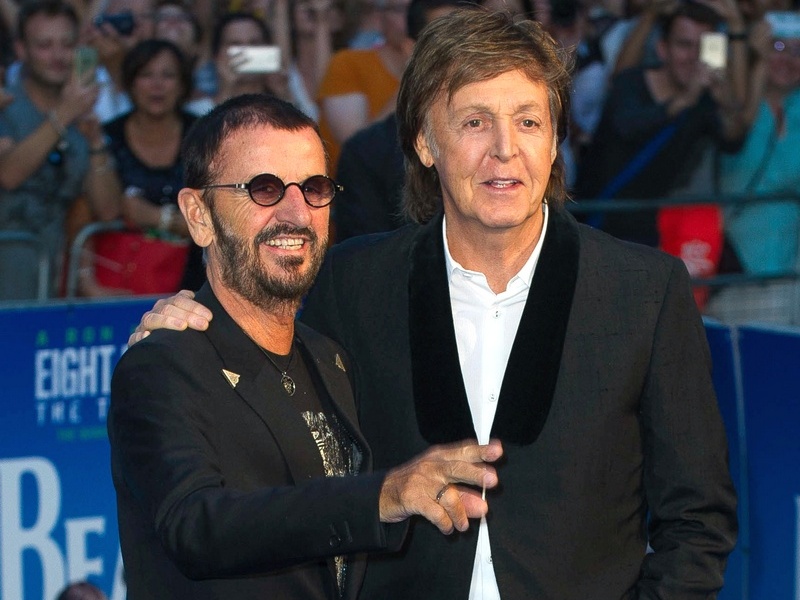 Dolly Parton will release her star-studded Rockstar! album on November 17th, according to The Hollywood Reporter. The story goes that Parton, who feeling self-conscious after being inducted last year into the Rock and Roll Hall of Fame and initially asking to be taken off the ballot, accepted the honor and promised to finally record her first all out-rock collection.
In addition to enlisting the help of Paul McCartney and Ringo Starr to reunite on her cover of the Beatles' classic "Let It Be," Rockstar! includes performances by Elton John, John Fogerty, Sting, Stevie Nicks, Mick Fleetwood, Pat Benatar, Simon LeBon, Joan Jett & The Blackhearts, Richie Sambora, Steve Perry, Ann Wilson, Steven Tyler, Peter Frampton, Michael McDonald, Debbie Harry, REO Speedwagon's Kevin Cronin, Melissa Etheridge, Rob Halford, Nikki Sixx, Sheryl Crow, along with members of Lynyrd Skynyrd, among others.
Peter Frampton, who contributed the album, revealed to us that it was actually he who reached out to Dolly's people to secure a place on the star-studded set: "I was with a friend who had just finished doing some background vocals on the Steven Tyler duet — and I said, 'Oh, that's right! She's doing that rock album!' So, I came home and I called my manager and I said, 'Y'know what — I'd love to do a guitar solo.' The next thing I know, I'm on the phone with Dolly's producer and he said, 'Would you ever think about doing one of your songs with Dolly?' — I said, 'Let me think abo. . . yes!!!(laughs).' So, he called me back in, like, 10 minutes and says, 'Dolly would love to do 'Baby, I Love Your Way' with you — so we did."
The tracklisting to Dolly Parton's World Of Fire album:
"Rockstar" – featuring Richie Sambora
"World On Fire"
"Every Breath You Take" – featuring Sting
"Open Arms" – featuring Steve Perry
"Magic Man" – featuring Ann Wilson and Howard Leese
"Long As I Can See The Light" – featuring John Fogerty
"Either Or" – featuring Kid Rock
"I Want You Back" – featuring Steven Tyler with Warren Haynes
"What Has Rock And Roll Ever Done For You" – Stevie Nicks with Waddy Wachtel
"Purple Rain"
"Baby, I Love Your Way" – featuring Peter Frampton
"I Hate Myself For Loving You" – featuring Joan Jett & The Blackhearts
"Night Moves" – featuring Chris Stapleton
"Wrecking Ball" – featuring Miley Cyrus
"(I Can't Get No) Satisfaction" – featuring P!nk & Brandi Carlile
"Keep On Loving You" – featuring Kevin Cronin
"Heart Of Glass" – featuring Debbie Harry
"Don't Let The Sun Go Down On Me" – featuring Elton John
"Tried To Rock And Roll Me" – featuring Melissa Etheridge
"Stairway To Heaven" – featuring Lizzo & Sasha Flute
"We Are The Champions"
"Bygones" – featuring Rob Halford, Nikki Sixx & John 5
"My Blue Tears" – featuring Simon LeBon
"What's Up?" – featuring Linda Perry
"You're No Good" – featuring Emmylou Harris & Sheryl Crow
"Heartbreaker" – featuring Pat Benatar & Neil Giraldo
"Bittersweet" – featuring Michael McDonald
"I Dreamed About Elvis" – featuring Ronnie McDowell & The Jordanaires
"Let It Be" – featuring Paul McCartney, Ringo Starr, Peter Frampton & Mick Fleetwood
"Free Bird" – featuring Ronnie Van Zant, Gary Rossington, Artimus Pyle & The Artimus Pyle Band