Myles Kennedy Recalls Becoming An Authentic Frontman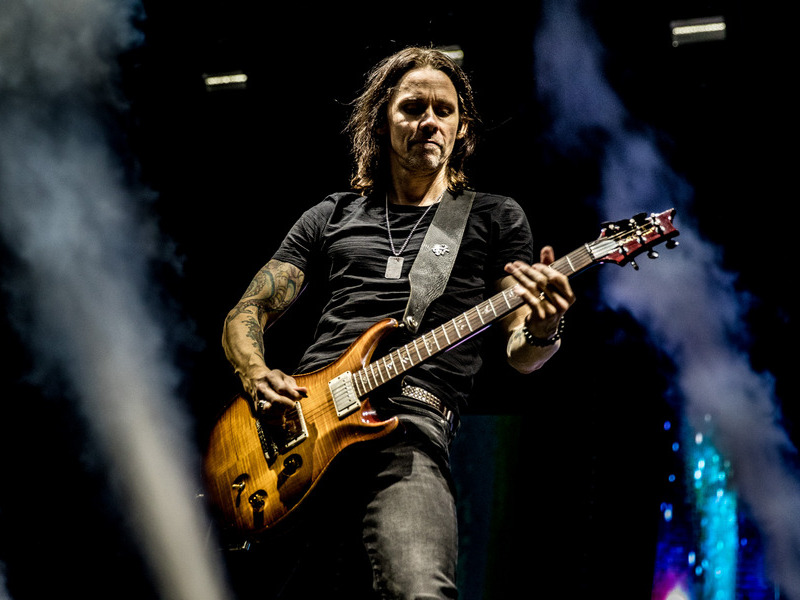 Alter Bridge singer Myles Kennedy admitted it took him a while to find his footing as a frontman. Just released is Alter Bridge's latest album, Pawns & Kings, with the band prepping for a European tour that kicks off next month.
While chatting with Classic Rock, Kennedy shed light on slowly finding himself as a performer during a 2014 Slash featuring Myles Kennedy and The Conspirators gig: "I tried and I tried, but I could never quite find that persona. And looking back, it's embarrassing. I felt like an imposter, and I felt like people knew it too, like they were looking at me thinking: 'This guy is bull****ting me.' They maybe didn't believe in me as a rock star, because I didn't believe in me either."
He recalled the moment when things started to work for him: "We were opening for Aerosmith and it was one of the first shows I played with Slash in front of my parents, so I was kinda operating with that rock guy persona. Then after the show I'm hanging out, and my step-dad pulled me aside and said: 'Y'know, just don't forget who you are.' And man, that was an important moment for me. Because at that point I realized: 'Y'know what, I'm just gonna be me up there, and if people like it, great, if they don't that's fine. And since I started doing that, I finally felt comfortable in my skin."
We asked Myles Kennedy how singing for Alter Bridge is different from working with Slash: "Vocally, each band brings a different approach out. The feel of the music will dictate that. With Slash, there's definitely more of a bluesy, soulful vibe that just naturally happens. With Alter Bridge, because it's got more of a metal undercurrent, I think there's something that just happens there as well. But the nice thing is is that it allows you to stretch in two different directions."
Alter Bridge kicks off its European tour on November 1st at Hamburg, Germany's Sporthalle Hamburg.