Jon Hamm, Anna Osceola, Jimmy Fallon + More!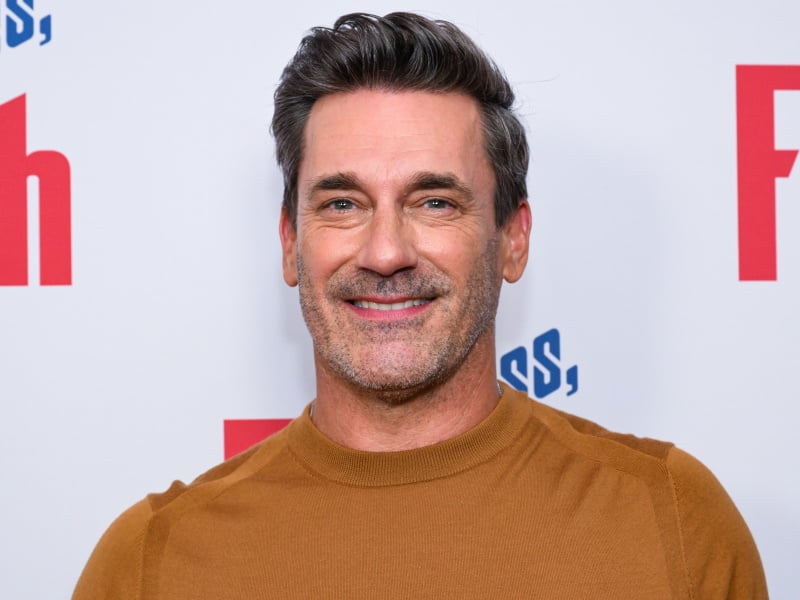 JON HAMM AND ANNA OSCEOLA ARE ENGAGED: People reports that after two years of dating, Jon Hamm and Anna Osceola are officially engaged! The Confess, Fletch costars reportedly met on the set of Mad Men in 2015 and became romantically linked in 2020.
JIMMY FALLON COVERS ARIANA DEBOSE'S BAFTAS RAP AS NEIL DIAMOND: Jimmy Fallon brought out his Neil Diamond impersonation recently to cover Ariana DeBose's viral BAFTAs rap. "Neil Young did the thing. S/O to @arianadebose and of course, @im.angelabassett #FallonTonight," The Tonight Show captioned the video on Instagram. Apparently, DeBose approved, as she shared the video to her Instagram stories and added a mind-blown emoji.
KHLOE KARDASHIAN IS 'TOTALLY OK' AFTER HAVING FACIAL TUMOR REMOVED: On Sunday (February 26th), Khloe Kardashian shared a gym selfie to Instagram in which she had a small "scar strip" on her face. "And what the heck is on your cheek," one fan commented. Kardashian replied, "A bandage. I had a tumor removed from my face but I'm totally OK. Thank you for asking." According to Entertainment Tonight, the Kardashians star first opened up about her skin cancer scare in October 2022. In another comment, Kardashian said, "I had a tumor removed from my face a few months ago so I wear this for healing and the prevention of my scar getting worse … All is great and healing wonderfully."
BRUCE WILLIS' WIFE IS WORKING WITH DEMENTIA SPECIALIST FOLLOWING HIS FTD DIAGNOSIS: Bruce Willis' wife, Emma Heming Willis, took to Instagram on Monday (February 27th) to share that she's been working with dementia specialist Teepa Snow, following the Die Hard actor's frontotemporal dementia diagnosis. "I'm grateful I had the opportunity to work with @teepasnows_pac who has helped me add to my dementia care toolbox," Emma wrote. "She's a loving, compassionate and skilled leader in this space who navigates herself with pure empathy. She's a gift."