Flashback: Led Zeppelin's 'Physical Graffiti' Hits Number One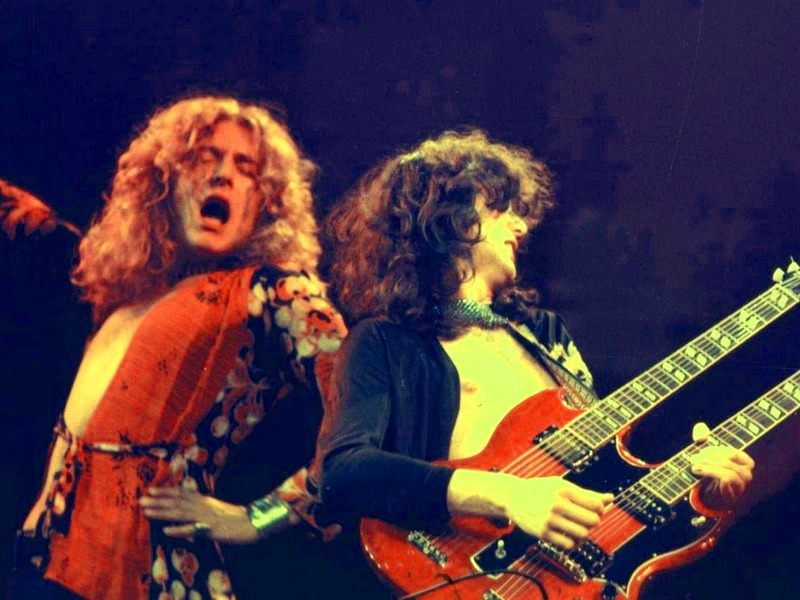 It was 48 years ago today (March 22nd, 1975), that Led Zeppelin's sixth album, Physical Graffiti, hit Number One on the Billboard 200 albums chart. The album, which marked the band's only studio double set, was released on February 24th, 1975 and topped the charts for six straight weeks, staying in the Top 10 for 12 weeks.
Physical Graffiti remains beloved by fans for such Zeppelin classics as "Kashmir," "Trampled Under Foot," "Houses Of The Holy," "In My Time Of Dying," "Down By The Seaside," "Boogie With Stu," "In The Light," and "The Wonton Song," among others.
Much like the Rolling Stones' 1972 double album, Exile On Main Street, Physical Graffiti is a hodge podge of new songs mixed with high quality outtakes from previous albums — "Bron-Yr-Aur" was originally intended for 1970's Led Zeppelin III; "Boogie With Stu," "Down By The Seaside," and "Night Flight," were recorded in 1971 for that year's Led Zeppelin IV album. "The Rover," "Houses Of The Holy," and "Black Country Woman" were originally recorded in 1972 for the following year's Houses Of The Holy collection.
We asked Jimmy Page if he knew going in that Physical Graffiti was going to be a double album — and whether half the set would be comprised of outtakes from the band's previous albums: "I thought about it, but it was as good as the material that we came up with. I knew it was going to be fun to revisit this stuff and sort of even go retro on ourselves. There's not many. . . nobody had done that, really. Not that I know of. And I just thought that it would be really good to add even more colors to the pallet. Because there was such variety across the other albums, and just to make something that was such a statement, that 'this is what we do, and how we do it, and nobody is anywhere near it.'"
Jimmy Page said that he laid the ground work for the new material while composing in his home studio: "I made it my business to make sure that we were gonna come up with that amount of material, because I had a good half-a-dozen — even more than half-a-dozen pieces to go in with. And one of the ones I had was, like, 'Ten Years Gone,' with all the guitar overdubs, because I had a home studio, a multitrack studio, so I could do all this sort of thing and I planned towards it. So, I had 'Wonton Song,' I had 'Sick Again,' on and on and on."
We told Page that "Ten Years Gone" — one of the many unsung classics on Physical Graffiti — might actually sum up the essence of him as a musician: "I really appreciate what you're saying about the, sort, of essence of it, and I must say that I really intended to make something that is like a guitar-orchestral piece, that's exactly what I intended. And when I was going through it, Robert (Plant) just came up with these lyrics, which were so bang on, it was just absolutely perfect, with a whole plaintive aspect of what it was. Y'know what I mean? It's emotional call. It was absolutely marvelous, really."
Prior to hitting the studio, Jimmy Page had spent a considerable amount of time demoing his new songs and working out his parts at his home studio, before bringing it to the band for their contributions: "I also had the riff and what becomes the brass and electric 12-string (guitar) interjections over that riff of 'Kashmir.' And 'Kashmir'; was the first thing that I was just busting to get in there with John Bonham — and actually, how it worked out was exactly what it was. It was just me and John Bonham on the recording track. I said, 'Alright, let's get on with it,' and we started playing the riff. And he absolutely loved the 'Kashmir' riff. And we were playing it over and over, like trance music, and then we did a take of it and then we started overdubbing the extra parts to it, which were going to become the parts that you hear coming in on the orchestra; 'cause I did think of this orchestral (part) right from the outset, and I also thought of it around the drums, building around the big drum sound and everything else."
In 2015, Led Zeppelin's deluxe, expanded three-disc reissue of the double album was released featuring unheard material and alternate mixes.