'Everything Everywhere All At Once' Wins Big At The 95th Academy Awards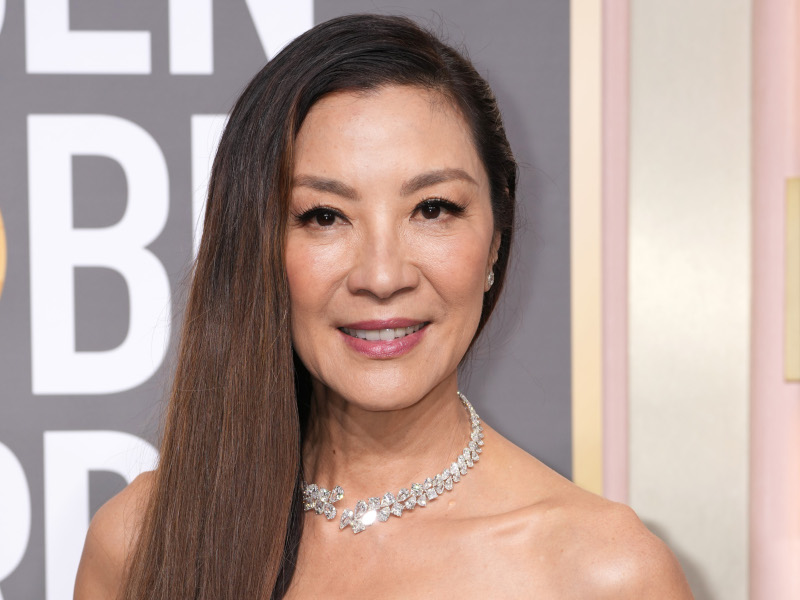 The 95th annual Academy Awards were held on Sunday (March 12th) at the Dolby Theater in Los Angeles. Hosted by Jimmy Kimmel, the three-and-a-half-hour broadcast aired live on ABC.
In the wake of last year's infamous slap, Kimmel joked during his opening monologue: "If anyone commits an act of violence anytime during this show, you will be presented the Oscar for Best Actor and be permitted to give an 18-minute long speech." He added, "Seriously, the Academy has a crisis team in place. If anything unpredictable or violent happens during the ceremony, just do what you did last year — nothing. Maybe even give the assailant a hug."
Everything Everywhere All at Once was the big winner of the evening, taking home seven awards in total including Best Picture. According to The New York Times, Michelle Yeoh made history as the first Asian actress to take home the award for Best Actress. "For all the little boys and girls who look like me watching tonight, this is a beacon of hope and possibilities," she said during her acceptance speech. "This is proof that dreams dream big, and dreams do come true."
Ke Huy Quan and Jamie Lee Curtis both won their first Oscars for Best Supporting Actor and Actress for their roles in the film. After receiving his award, Quan gave a shout-out to his mother. "My mom is 84 years old, and she's at home watching," he said. "Mom, I just won an Oscar." In an emotional speech, Quan added, "My journey started on a boat. I spent a year in a refugee camp. And somehow I ended up here on Hollywood's biggest stage. They say stories like this only happen in the movies. I cannot believe it's happening to me. This is the American dream."
Curtis teared up as she remembered her parents. "My mother and my father were both nominated for Oscars in different categories," she said. According to Deadline, Tony Curtis was nominated for Best Actor in 1959, while Janet Leigh was nominated for Best Actress in a Supporting Role in 1961. "I just won an Oscar!" Jamie Lee exclaimed.
The Netflix film All Quiet on the Western Front also had a successful evening, taking home four awards in total including Best International Feature.
Brendan Fraser won the Oscar for Best Actor for his role in The Whale, commenting on his comeback story during his acceptance speech. "I started in this business 30 years ago. Things didn't come easily to me but there was a facility that I didn't appreciate at the time until it stopped," he said.
Presenters included Dwayne Johnson, Emily Blunt, Cara Delevingne, Ahmir "Questlove" Thompson, Michael B. Jordan, Jonathan Majors, Jennifer Connelly, Samuel L. Jackson, Pedro Pascal, Margot Robbie, and Morgan Freeman.
The evening's performances included the nominees in the best original song category. Honorary Oscar winner Diane Warren and Sofia Carson performed "Applause" from Tell It Like a Woman; David Byrne, Stephanie Hsu, and Son Lux performed "This Is a Life" from Everything Everywhere All at Once; and Kaala Bhairava and Rahul Sipligunj performed "Naatu Naatu" from RRR. While it was reported that Lady Gaga would not perform at the event due to scheduling conflicts, the House of Gucci star sang "Hold My Hand" from Top Gun: Maverick. Lastly, a month after her Super Bowl Halftime Show, Rihanna performed "Lift Me Up" from Black Panther: Wakanda Forever. The winner was "Naatu Naatu" from RRR, making history as the first song from an Indian film to be nominated and win in the category, according to The Los Angeles Times.
John Travolta choked up as he remembered Olivia Newton-John before introducing the "In Memoriam" segment, accompanied by Lenny Kravitz on the piano, performing "Calling All Angels."
Another highlight of the evening included Halle Bailey and Melissa McCarthy taking the stage to reveal the first full trailer for the live-action remake of The Little Mermaid.
See the full list of winners below:
Best Picture
Everything Everywhere All at Once
Best Actor
Brendan Fraser, The Whale
Best Actress
Michelle Yeoh, Everything Everywhere All at Once
Best Director
Daniel Kwan and Daniel Scheinert, Everything Everywhere All at Once
Best Supporting Actor
Ke Huy Quan, Everything Everywhere All at Once
Best Supporting Actress
Jamie Lee Curtis, Everything Everywhere All at Once
International Feature
All Quiet on the Western Front (Germany)
Best Animated Feature
Guillermo del Toro's Pinocchio
Original Screenplay
Everything Everywhere All at Once
Adapted Screenplay
Women Talking
Visual Effects
Avatar: The Way of Water
Original Score
Volker Bertelmann, All Quiet on the Western Front
Original Song
"Naatu Naatu" from RRR
Documentary Feature
Navalny
Documentary Short
The Elephant Whisperers
Cinematography
James Friend, All Quiet on the Western Front
Costume Design
Black Panther: Wakanda Forever
Animated Short
The Boy, the Mole, the Fox and the Horse
Live-Action Short
An Irish Goodbye
Film Editing
Everything Everywhere All at Once
Sound
Top Gun: Maverick
Production Design
All Quiet on the Western Front
Makeup and Hairstyling
The Whale
Jimmy Kimmel Addresses Oscars Slap During Opening Monologue
"If anyone in this theater commits an act of violence at any point during the show, you will be awarded the Oscar for best actor and permitted to give a 19-minute long speech. No, but seriously, the academy has a crisis team in place. If anything unpredictable or violent happens during the ceremony, just do what you did last year. Nothing. Sit there and do absolutely nothing. Maybe even give the assailant a hug. And if any of you get mad at a joke and decide you want to get jiggy with it — it's not going to be easy. A few of my friends you have to get through first. You are going to have to get through the heavyweight champ, Adonis creed, before you get to me. You are going to have to do battle with Michelle Yeoh before you get to me. You are going to have to beat "The mandalorian" before you get to me. You are going to have to tangle with spider-man. You are going to have to — you are going to have to tangle with fabelman. Laughter" 1:11 OC…tangle with fableman laughter
Ke Huy Quan Accepts The Award For Best Supporting Actor
"Thank you. Thank you. My mom is 84 years old. And she's at home watching. Mom, I just won an Oscar! My journey started on a boat. I spent a year in a refugee camp. And somehow, I ended up here on Hollywood's biggest stage. They say stories like this only happen in the movies. I cannot believe it's happening to me. This — this is the American dream. Thank you so much. Thank you so much to the academy for this honor of a lifetime. Thank you to my mom for the sacrifices she made to get me here. To my little brother who calls me every day just to remind me to take good care of myself, I love you, brother. Thank you to Kendall for all your support. Thank you to a-24. To Daniel, Jonathan, Jamie, Michelle, and my "Goonies" brother for life, Jeff Cohen. I owe everything to the love of my life, my wife echo, who — who month after month, year after year for 20 years told me that one day, one day my time will come. Dreams are something you have to believe in. I almost gave up on mine. To all of you out there, please keep your dreams alive. Thank you, thank you so much for welcoming me back. I love you. Thank you, thank you, thank you! Cheers and Applasue" 2:33 OC…you thank you! Cheers and Applasue
Jamie Lee Curtis Accepts The Award For Best Supporting Actress
"Stop. I have 45 seconds and I promised Janet yang I would do it well, because I'm a good girl. I know it looks like I'm standing up here by myself but I am not, I am hundreds of people. I'm hundreds of people. I am — where are the Daniels? Daniels, Jonathan, Leiglo, the entire crew, my Bae Michelle, ke, Steph, the entire group of artists who made this movie. We just won an Oscar. To my dream team, my agent Rick Kurtzman, Ellen worthheigmer, Heidi Schafer, Jane Ross, we just won an Oscar. To my family — my beautiful husband, Christopher guest. Our daughters, Annie and ruby. My sister Kelly, we just won an Oscar. To all of the people who have supported the genre movies that I've made for all these years, the thousands and hundreds of thousands of people, we just won an Oscar together! And my mother and my father were both nominated for oscars in different categories — I just won an Oscar. Cheers and Applasue" 1:48 OC…won an Oscar. Cheers and Applasue
Edward Berger Accepts The Award For Best International Film
"Thank you Netflix for supporting us. Thank you to my wife and my kids. Thank you Ted, Sasha, Scott, and David for making our movie. Thank you, these two wonderful actors. My producer, Daniel, the actors, and especially Felix, this was — this was your first movie — this was your first movie and you caried us on your shoulders as if it was nothing. Without you, none of us would be here. Thank you, Felix. Cheers and Applause" :49 OC…Thank you Felix Cheers and Applause
Daniel Scheinert and Daniel Kwan Accept The Award For Best Original Screenplay
"Oh, my god. Ah! All right. Okay, I had — I had a fantasy as a kid of winning an award and going up and telling off all the teachers that gave my brother and I detention, so, here goes. I'm just kidding. These are teachers that changed my life, most of them public school teachers. Mr. Tool, Mr. Hudson, Mr.Chambers, and Ethan Hallman. You guys educated me, you inspired me, and you taught me to be less of a butthead. Your turn. All right, my fast spiel, I never thought of myself as a screenwriter or a storyteller, I never thought I was good enough, I have self-esteem problems. I have to thank all the people — yes — so — thank you. Oh, god. Guys. My imposter syndrome is at an all-time high. I need to thank the people who made me the storyteller that I am, starting with my mom, who protected me as a child, protected the inner storyteller. My mom is here, I don't know where she is. Thank you for all the sacrifice she gave me. My wife who protects me every day from the most negative thoughts I have, especially when I'm writing and especially I need to thank Daniel, who is my confidence, he is the personal who told me I was a storyteller and a filmmaker before I could even say that myself and I would not be here without him. And to my fellow nominees, thank you so much, guys, thank you. Cheers and Applause" 1:28 OC…guys thank you. Cheers and Applause
Sarah Polley Accepts The Award For Best Adapted Screenplay
"Thank you! Um — first of all, I just want to thank the academy for not being mortally offended by the words women and talking put so close together like that. Cheers. Mirian Toews wrote this novel, where people don't agree on every single issue, manage to sit together in a room and carve out a way forward together free of violence. They do so not just by talking, but also by listening. The last line of our film is delivered by a young woman to a new baby and she says, "Your story will be different from ours." It's a promise, a commitment, and an anchor and it's what I would like to say with all of my might to my incredible three kids, eve, Isla, and Amy, as they make their way through this beautiful, complicated world. Thank you to the best man I've ever known, David, for giving me the optimism to believe we can and will do better. Dede Gardner and Francis mcdormant, thank you letting me stand on your shoulders for making this space for me. We have the most incredible cast and the most incredible crew, some of whom are here tonight, please stand up if you are there or if you are in the nose bleeds, and everybody at home who worked on this film. Oh, my — I accept this on all of our behalf. Thank you. Thank you. Wow. Cheers and Applause" 1:36 OC…Thank you wow Cheers and Applause
M. M. Keeravani Accepts The Award For Best Original Song
"Thank you, academy. I grew up listening to the carpenters and now here I am with the oscars. ♪ There was only one wish on my mind ♪ ♪ so was my family's ♪ ♪ rrr has to win ♪ ♪ pride of every Indian ♪ ♪ and must put me on the top of the world ♪ thank you! Thank you for making this possible. Love you all. Thank you. Namaste. Cheers and Applause" :55 OC…Thank you namaste Cheers and applause
Daniel Kwan and Daniel Scheinert Accept The Award For Best Director
Daniel Kwan and Daniel Scheinert Accept award for best director. They dedicate their award to their moms and their crew, their cast, friends, and family. 2:28 OC…to the academy Cheer and applause
Brendan Fraser Accepts The Award For Best Actor
Brendan Fraser Accepts Award gets emotional as he thanks his managemnt team and colleagues, cast and crew. He also thanks his family and friends as he accepts his award. 2:15 OC…you good night Cheers and Applause
Michelle Yeoh Accepts The Award For Best Actress
Michelle Yeoh Accepts Award thanks her community and mentions that dreams do come true and one is never past yur prime. She also thanks cast, crew, family and friends for her award. 2:47 OC…making thank you Cheers and Applause